---
ARTICLES ON PAPER MONEY
Please submit your articles on paper money. We pay
for your article in order points*! Your article must be
paper money related and must be at least one page
of A4 format in normal size font.

How to submit your article and illustrations to
us:

Submit your article(s) to us by e-mail, fax or a
regular mail (an attached open text file by e-mail)
(see our contact info link above), by a floppy disk or
disquette or a typewritten A4 format pages by a
regular mail. Enclose proper stamps and/or cheque if
you wish your article(s) and/or photos to be returned
to you.

* WE PAY for your article! Each order point is
worth $25 US of banknotes ordered from us. Each
order point is assigned to one A4 size standard font
page of professionally written text of your own
original article. Therefore if you send us an article
that is paper money related and is three (3) A4
pages in length, then you get a $75 shopping spree
on Banknotes.com (shipping, handling and any other
involved costs are your responsibility or will be
deducted from the amount of your compensation).
Your articles are to be approved before order points
are assigned to you. We keep the right to refuse any
articles we consider as inappropriate for our website.
Your article(s) can not be published in any other
publication, website or any other source. Banknotes.com
must be the sole publisher of your article(s).
---
No new Dutch banknotes will be printed in the Netherlands in 2012.
For the first time, since the introduction of the euro, printing company Joh. Enschede from Haarlem, lost the printing contract of The Dutch Bank (DNB).
The Dutch bank will have all banknotes printed in Germany and Great Britain late next year.
The Dutch Bank is required to order the new banknotes from European printing companies, in order to promote fair competition and to work in a cheap and efficient way.
The contract goes to the German printers Bundesdruckerei en Giesecke & Devrient and the British printer De La Rue International.
DNB made the contract in collaboration with seven other central banks from the EU.
De Nederlandsche Bank (DNB) acts as an adviser to the Dutch government. Also, it performs important functions in several consultative bodies. In offering independent economic advice, DNB contributes to sound economic policy-making on both the national and the international level. DNB is able to do so on the strength of its expertise, its reputation and its independent position.
Together with the ECB and the central banks of the other euro area countries, DNB is engaged in developing secure banknotes. DNB issues new banknotes and keeps the banknote circulation in shape. Every day, DNB checks five to six million banknotes for authenticity and fitness. Soiled and damaged banknotes go straight to the shredder and are replaced by new ones.

Source: http://www.dutchdailynews.com/dutch-banknotes/
---
Banknotes.com broadcasts on a Radio around the world:

March 31, 2003 around 9:00 am Pacific Time. Live 5 minutes broadcast interview about Iraqi currency on KUGN Radio station
(Eugene, Oregon) http://www.kugn.com/index.htm

April 1, 2003 pretaped 4 minutes interview on 9:15 am local time about Iraqi currency on CHQR Radio station (Calgary, Alberta,
Canada) http://www.qr77.com

April 3, 2003 pre-recorded interview on 1:45 pm Australia local time about world and Iraqi currency on Talk 1116 Radio 3AK Radio
station (Melbourne, Australia) http://www.3ak.com.au

Thanks for listening!
---
Press about Audrius Tomonis - Banknotes.com:

The New York Times: http://query.nytimes.com/gst/abstract.html?res=F00D14FF3C5D0C758CDDA80894DA404482

Wired News: http://www.wired.com/news/business/0,1367,58402,00.html



Boston Globe: http://www.boston.com/dailyglobe2/109/business/It_s_like_throwing_money_away+.shtml

OstEuropa.ch - Banknotes.com - best website of the month - http://www.osteuropa.ch/mainmenu/dossiers/toplink.htm

January 12, 2010:

Money's got soul: What goes on our bills says a lot about us: by Clare Raspopow: http://pre2010.thelinknewspaper.ca/articles/2074
---
# As of 1 July 2005, the leu (ROL), Romania's legal tender, will be subject to redenomination so that 10,000 old lei, in circulation on that date, shall be exchanged for 1 new leu (RON).
# The existing banknotes and coins, i.e. the old lei, shall be legal tender until end-December 2006.
# By 31 December 2006, the existing banknotes and coins, i.e. the old lei, are to be replaced gradually by the new banknotes and coins.
# Starting 1 January 2007, the exchange shall be made only at the NBR branches carrying out payments and at the offices of the credit institutions authorised by the NBR Governor's order to perform the exchange.
# The exchange shall be made during a three-year period, at most, until 31 December 2009*. *) NBR drafted a proposal to the Parliament to abilitate the bank to exchange the old leu for unlimited period.

Info source: http://www.denominare.ro/common/htmls/en.htm
---
02 September 2003

RFID tags make it into bank notes
Imagine a world full of money that can tell you where it's been spent.
By Martyn Williams, IDG News Service
Hitachi has developed an RFID (radio frequency identification) chip that requires no external antenna and makes possible the embedding of tracking and identification chips in bank notes, tickets and other paper products.
As with competing chips, Hitachi's Myu chip requires antennas through which data can be received and transmitted to a chip reader, all of which draws power. In the case of the current generation Myu chip, this antenna can be between five centimetres and seven centimetres long, said Keisaku Shibatani, a spokesman for Hitachi.
Even though the chips themselves are very small, at 0.4 millimetres square, the large antenna needed effectively limits their use in certain applications. The new Hitachi chip is the same size as the current model although requires no antenna. This means it is suitable for use in a range of applications including embedding in bank notes and documents, said Hitachi.
In May this year, a Japanese media report said Hitachi was talking with the European Central Bank on a project to embed euro bank notes with RFID chips. Shibatani, the Hitachi spokesman, said that such a project was not underway at present.
The new announcement confirms that such a project will soon be technically feasible although several other potential hurdles remain, such as hitting a low price point and also combating growing consumer resistance to RFID.
The company announced one application for the new chip. It will be embedded into tickets for the Expo 2005 fair that will take place in Aichi prefecture in central Japan in 2005.
A production schedule for the chips has not yet been decided and neither has pricing, said Shibatani. The chip announced Tuesday operates in the Japanese RFID band, which is around 2.4GHz, he said.
First announced in 2001, Myu chips contains a 128-bit identification number that is burned into the chip at the time of manufacture meaning it is not possible to change the number once produced.
Article source: http://www.techworld.com/news/index.cfm?fuseaction=displaynews&NewsID=412

---
07 July 2003
Fact Sheet: New Iraqi Dinar to Be Released in October 2003
(Fact sheet from the State Department's Bureau of Near Eastern Affairs)
On July 7, the Coalition Provisional Authority in Iraq released the following fact sheet about the new Iraqi dinar that will replace aging Iraqi banknotes beginning October 2003.

(begin fact sheet)
Fact Sheet about New Iraqi Banknotes
In close consultation with financial experts from Iraq and the international community, a new series of Iraqi banknotes will be introduced from 15 October. These new notes will address problems like the shortage of 250-dinar notes and the poor quality of the notes in circulation.
Some key facts about these banknotes:
The new notes will unify the currency across all of Iraq. Once the exchange of notes has been completed, these notes will be the official banknotes for the entire country.
The official conversion rates will be as follows:
One normal Iraqi dinar ("print dinar," as used in most of Iraq) will be worth one New Dinar. One former national dinar ("Swiss dinar", as used in some Northern areas) will be worth 150 New Dinars.
Current banknotes -- both the normal Iraqi ("print") dinar and the former national ("Swiss") dinar -- will continue to be accepted at full value until the exchange has been fully completed.
The new banknotes will be available from 15 October 2003.
Official exchange locations will be announced before 15 October. These will include branches of the Rasheed and Rafidain banks.
Exchange will be possible over a three-month period, from 15 October to 15 January. There is no need for people to exchange their notes as soon as the exchange begins.
People who now hold money in bank accounts will not need to withdraw this money to exchange. All bank accounts will be automatically converted to new notes at the official rate.
The new banknotes will look very similar to the former national ("Swiss") dinar notes that were used throughout Iraq until the early 1990's, and are still used in some Northern areas.
-- The new banknotes will have a number of advantages over normal Iraqi ("print") dinars:
-- They will be much better protected against counterfeiting.
-- They will be much more durable and suffer less "wear and tear."
-- They will have many more denominations, so they will be much more convenient for people to use.
The new currency will be fully convertible into other, non-Iraqi currencies -- including the dollar -- at the prevailing market rate.

(end fact sheet)

Article source: http://www.usembassy.it/file2003_07/alia/a3070705.htm


---
Press Release
Source: Canadian Bank Note and http://biz.yahoo.com/cnw/030317/polymer_banknotes_1.html


Canadian Bank Note Company, Limited to
Produce First Polymer Banknotes in Africa
Monday March 17, 8:00 am ET

OTTAWA, March 17 /CNW/ - Canadian Bank Note Company, Limited (TSX:CBK - News)
announced today the signing of a contract with the Bank of Zambia for the printing and
supply of two denominations of Kwacha banknotes to be printed on a high security
polymer substrate. This contract marks the first polymer banknotes to be issued in
Africa and is indicative of increasing global acceptance of "polymer" as a new and
advanced banknote technology. The dollar value of the contract amounts to less than
10% of CBN annual sales.

"Polymer substrate is playing a key role in shaping the future of banknotes. We have
developed the necessary technology to include polymer in our product offering,"
explained Hutch Holton, President, Payment Systems. "For countries in which
banknotes need the highest level of security or have a short lifespan due to climate
conditions, polymer is an excellent means of ensuring the security and longevity of the
local currency. The Bank of Zambia's decision to issue two of its denominations in
polymer banknotes positions this country as a leader in the introduction of this
technology in the region."

Polymer banknote substrate is a uniquely manufactured and coated, thin, resilient
plastic material that offers a significantly longer circulation life for banknotes than
traditional paper-based notes. These banknotes deliver enhanced security, cleanliness
and offer a significant reduction in the costs associated with the issuing, inspection and
withdrawal of banknotes from circulation. Australia and New Zealand were the first
countries to adopt polymer for all their banknotes. Numerous other countries have a
mix of paper and polymer notes in circulation.

Canadian Bank Note Company, Limited supplies printed products and related issuing
and control systems in four business areas; Lottery, Identification, Payment and
Shareholder Services. The Company has extensive manufacturing operations for
printing currency, passports, visas, lottery tickets, postage and other related products
as well as for producing hardware devices such as passport and card readers and
lottery terminals. The Company has a large complement of software engineers for
designing software systems. Products, services and systems are now marketed in more
than 40 countries.

CBN is listed on The Toronto Stock Exchange under the symbol CBK.

For further information

H. Hutchinson Holton, President, Payment Systems, Canadian Bank Note
Company, Limited, Tel: (613) 722-6607 X 4419, E-mail:
hholton@cbnco.com

Source: Canadian Bank Note and http://biz.yahoo.com/cnw/030317/polymer_banknotes_1.html
---
Week in Review Desk | January 6, 2002, Sunday
The Color of Consensus

By TOM ZELLER (NYT) 693 words
Late Edition - Final , Section 4 , Page 16 , Column 5
ABSTRACT - European Central Bank hoped to evoke unity in design of new euro; photos of some key elements of designs (M)5
AMERICAN travelers have long joked that European banknotes, with their bright colors, varied sizes and Dada designs, have all the
gravitas of Monopoly money. But last Tuesday, these fanciful and vibrant expressions of cultural identity were replaced by the euro,
a somewhat more vanilla byproduct of the design-by-diplomacy method that characterizes nearly every aspect of a unifying Europe
-- and nostalgia began to set in.
''I am sorry to see so many beautiful European paper notes go,'' said Audrius Tomonis, an avid collector whose Web site,
Banknotes.com, provides numerous examples of the disappearing specimens. ''On the other hand, the design of the euro is
very professional,'' he said.

To purchase full article go to it's source, the New York Times:
http://query.nytimes.com/gst/abstract.html?res=F00D14FF3C5D0C758CDDA80894DA404482
---
NATIONAL BANK OF ROMANIA

PRESS RELEASE - 16 September 2002

withdrawal from circulation of the ROL 10,000 note - year of issue 1999 and ROL 50,000 year of issue 1996

Pursuant to the provisions under Art. 19 of Law 101/1998-The NBR Act - subsequently amended and supplemented, the
National Bank of Romania shall withdraw from circulation as of 1 October 2002 the banknotes with face value ROL 10,000
- year of issue 1999 and those with face value ROL 50,000 year of issue 1996.

After 31 December 2002 the said banknotes cease to be legal tender.

The withdrawal of the banknotes with face value ROL 10,000 - year of issue 1999 and those with face value ROL 50,000
year of issue 1996 shall be carried out as follows:

Between 1 October - 15 December 2002, the above-mentioned banknotes will be received in the usual way from
individuals by all economic agents and other institutions which are bound to receive the banknotes, not to put them again
in circulation, and to deposit them on a daily basis along with the cash receipts with the banks where they hold their
accounts.

Between 16 - 31 December 2002, the banknotes will be accepted only by banks from individuals, economic agents and
other institutions, for payment or exchange. Commercial banks shall no longer put the banknotes in circulation, but
deposit them with the National Bank of Romania.

As after 31 December 2002 the banknotes with face value ROL 10,000 - year of issue 1999 and those with face value
ROL 50,000 year of issue 1996 cease to be legal tender, commercial banks shall no longer receive them from individuals,
economic agents or other institutions, and shall not exchange them.

Between 1 January - 30 June 2003, the banknotes with face value ROL 10,000 - year of issue 1999 and those with face
value ROL 50,000 year of issue 1996, which ceased to be legal tender, may be exchanged by the National Bank of
Romania branches only.

Source: http://www.bnro.ro/En/Press/E20020916x.htm
---
Walker's World: Europe's Funny Money

By: Martin Walker, UPI Chief International Correspondent
Published: Wednesday, August 08, 2001, 02:20:31 PM EST

GENEVA, Switzerland, Aug. 8 (UPI) -- Something very odd is happening to Swiss banknotes.

The Swiss National Bank has for the past decade and more planned for a
steady reduction in the numbers of banknotes available, as credit cards
and electronic transfer payments increasingly take the place of cash.

Instead, demand for one of the world's most stable and respected
currencies continues to grow, particularly for high denomination notes.
Over the past year, according to official statistics from the national bank,
the supply of 1,000 franc notes (each one worth roughly $500) has
increased by 7.1 percent. There are now 4.1 percent more 500 franc
notes, and 6.2 percent more 200 franc notes in circulation than there
were a year ago,.

"We are observing a transfer of money into the Swiss franc, notably in
high denomination banknotes", says a bank spokesman. "But we have
no information at our disposal on the origins of this demand."

Speaking off the record, however, Swiss bankers can make a good guess. Indeed, it is an open secret that
Switzerland is enjoying, if that is the right word, the euro effect.

Europe's new single currency comes into force on E-Day (as in E for euro) on January 1, just over 100 days
away. And all the little piles of deutschmarks, French francs and Spanish pesetas and Austrian schillings
and Italian lire that have been carefully hidden away from the tax authorities under mattresses and in safe
deposit boxes will no longer be legal tender.

Sure, they can take their old notes to the bank and exchange them for crisp new euro notes with their bland
designs of bridges. But every country has put limits on the amounts of cash transfers, and the tax
authorities are expected to keep a beady eye on big transactions.

The owners of piles of cash are thus changing their obsolescent national banknotes for currencies that will
survive the coming of the euro. The Swiss franc, the British pound and above all the U.S. dollar are the
preferred cash havens, which helps explain the surprising strength of these currencies on world markets.

Economic logic, and the slowdown in growth, might argue that the dollar and the pound are far too strong
these days against the European currencies. The need of millions of Europeans to launder their cash ahead
of E-Day helps explain why these currencies are still so much in demand.

There are no reliable figures, but Bank of England officials have made some private estimates of the private
cash hoards that are being unloaded. They reckon that at least 100 billion deutschmarks (roughly $50
billion) and 200 billion French francs (another $30 billion) and 4 trillion Spanish pesetas (another $20 billion)
and 100 trillion Italian lire (another $50 billion) is being shifted into new assets. Add up these lowball
estimates, and we are talking about a cash pile in Western European countries alone that is equivalent to the
GDP of Switzerland, and is now urgently seeking a new home.

These low estimates take no account of the role of traditional European currencies elsewhere in the world.
All through the Balkans and in much of Eastern Europe, the deutschmark has been the currency of choice
for the past two decades. In Russia, the Deutschmark is the dollar's only rival. Throughout West Africa and
in much of North Africa, the French franc has been the favored currency.

And if those Francs and D-Marks are not converted into something useful within the next 100 days, they
risk becoming so much expensive wallpaper.

So all across Europe in this summer of the global slowdown there are booms in property prices, in antiques
and works of art and jewels and luxury cars and fine wines, as people turn cash into other valuables. And by
converting their money into dollars and pounds and Swiss francs, they may be protecting their own savings
but they are having some strange effects on the currency markets.

The more a Belgian dentist, for example, turns his Belgian francs into dollars, the more the dollar will rise
against the Belgian franc, or the euro of which it is now a part. But the more the dollar rises against the
Belgian franc, the stronger the incentive for the Belgian dentist to keep on converting his weak francs into
strong dollars. The process becomes self-reinforcing.

So when American and British and Swiss exporters complain that their strong dollars and pounds and francs
are pricing them out of European markets, they are victims of the coming of E-Day. And when the falling
profits of major exporters start to depress stock prices on Wall Street, and force manufacturers to slash their
investment plans and start laying off employees, we are observing a phenomenon that might be called the
E-Day recession.

Copyright 2000-2001 by United Press International.
---

---
The following are some older articles on world paper money

Top Mauritius bankers resign over new banknotes row

PORT-LOUIS, Nov 21 (AFP) - The two top officials of Mauritius's central bank have resigned amid over the languages used
on banknotes, it was announced Saturday.

Central bank governor Daneshwar Maraye and director-general Bud Gujudhur stepped down after thousands of people
demonstrated in Port-Louis last Sunday to demand that the Tamil language keep its primacy over Hindi on new banknotes.

A communique said the resignations had been requested by Prime Minister Navin Ramgoolam.

Traditionally, the amounts on banknotes were written first in English, then in Tamil and Hindi. But the new series of rupee bills
put Hindi before Tamil.

This change brought a swift reaction from Mauritians of Tamil origin, with Industry Minister Moorthy Sunassee storming: "The
history of Mauritius has been deformed."

Most of Mauritius's 1.2 million inhabitants are originally from India. But within that community, the cultural differences of India's different regions remain strong.

Britain prints euro notes at a cost of 300,000 pounds

LONDON, Nov 12 (AFP) - The Bank of England on Thursday said that it was printing millions of euro banknotes, at a cost
of 300,000 pounds (500,000 dollars), even though Britain will not be in the first wave of EU countries to use the single
currency from its launch next year.

Britain will print seven million euro notes in five, 20 and 50 denominations, the government said. The cost will be financed by
the Treasury.

Officials said that the central bank had been involved in the technical preparations for the launch of the euro.

"As part of this work, the bank has agreed to participate in a trial of the notes to be introduced in 2002 in countries joining the
single currency on January 1, 1999," an official said.

The printing of euro notes here is designed to ensure consistency of paper quality and colour at different printing machines
across Europe.



West Africa to issue common currency traveller's cheques

FREETOWN, Nov 30 (AFP) - Some seven million dollars' worth of traveller's cheques are to be issued in February at
commercial banks in 16 west African countries, according to the West African Monetary Agency, based here.

The WAMA regulates currency transactions for the Economic Community of West African States (ECOWAS).

"It is a means towards greater economic integration and the establishment of a single currency unit in west Africa," George
Osaka, head of research at the agency, told reporters at the weekend.

The traveller's cheques, known as the West African Uunit of Accounts (WAUA), are to be issued through central ECOWAS
banks, with an exchange rate of 1.38 WAUA to the dollar.

"The biggest benefit is that much-needed foreign exchange will be conserved and businessmen will no longer need to use the
dollar or (British pound) sterling in business transactions in the sub-region," Osaka said.

The cheques, which will show the ECOWAS logo on one side and flags of member states on the other, will be issued in
denominations of five, 10, 20 and 100.

All the above articles' source: http://www.thunderstone.com/

Copyright © 1996 Thunderstone - EPI, Inc.
Introduction of adapted bank-note series by the 'Bank van de Nederlandse Antillen'

When an increase in the number of counterfeited bank-notes by means of modern techniques was noticed, the 'Bank van de
Nederlandse Antillen' conducted a study into the possibilities to safeguard the Netherlands Antillean bank-notes against
counterfeiting by means of the latest available technological devices. This study reveals that there are modern printing techniques available, which can effectively challenge the counterfeiting of bank-notes.

Considering the above, the Bank has decided to print and issue new bank-notes that have the same design as the current bank-note series, but to which new anti-counterfeiting features (security features) have been added. For the time being, the current and new series will be in circulation side by side.

After a cost-benefit analysis of various options, it has been decided not to bring a new series with a new design into circulation, but to adapt the bank-notes to modern times and to add new security features, by applying new techniques. In addition, an adaptation will have the advantage that recognizability of the bank-notes with the public will be maintained. In the new, adapted, series, the (blue) 5-guilder bank-note and the (purple) 250-guilder bank-note will no longer be represented. The former has been replaced by the five guilder coin. The 250-guilder bank-note will not be adapted: the use of this note is too low to justify such an investment. Should it in the future become apparent that the demand for this denomination has
increased, the Bank can always decide to adapt the 250-guilder bank note at that time. Until then, the 'old' 250-guilder bank note will remain normally in circulation.

Due to the adaptation, the new bank notes have -apart from the already existing security features-been geared with three, for the public clearly noticeable, security features:

An eye-catching gold-colored foil
Two strips with planchettes and
Pearly ink layer

The gold-colored foil, applied on the front-side, protects the bank-notes against reproduction by copying machines or scanners, as this gold-colored foil will turn into a black area. The planchettes (dots), which have been placed in narrow strips along the top and bottom of the rear-side, will change color (lighten up), when observed from varying angles. This change of colors will disappear on counterfeits made with copiers or scanners. In that case, the planchettes will obtain one fixed color and will no longer glisten. In addition, a pattern of pearly ink has been placed on the front-side of the bank-notes. This pattern is clearly visible when the bank-note is held in an angle to the light, but will disappear if it is a color copy or a laser print.

Apart from these new security features, the adapted bank-notes do of course also posses the security features of the current series. These features, the watermark, the 'see-through-window', the black and luminescent fibers, the tactile ink and the small, yet readable letters, are still important elements of the protection against counterfeits.

All security features of the adapted bank-note series are presented and explained in a special brochure, which, as of today, is available at the 'Bank van de Nederlandse Antillen' and all local commercial banks.

10 guilders bank note - 25 guilders bank note - 50 guilders bank note - 100 guilders bank note

Willemstad, June 5, 1998
BANK VAN DE NEDERLANDSE ANTILLEN

Information source: http://centralbank.an/sitemap/main.htm
---

---
Thomas de la Rue, 8 others bag currency printing bid

Anirban Nag & Raghu Mohan


MUMBAI, May 7: The Reserve Bank of India (RBI) has awarded the contract to print 3.6 billion currency notes worth
Rs 340 crore to nine foreign companies.

This is for the first time that the central bank is importing currency notes through a global tender. Bids had been invited
for 2 billion 100 rupee notes and 1.6 billion 500 rupee notes in December last.

"With the import of the currency notes, the country's needs will be taken care of till 1998-end, when two new presses at
Salboni and Mysore will become fully operational," Reserve Bank deputy governor RV Gupta said.

The first tranche of imported notes will be released into the system in July.

The apex bank has awarded the contract for 100 rupee notes to a consortium of three companies of the United Kingdom,
Thomas de la Rue, Desden Seck Printing Works (a subsidiary of the Bank of England) and Harrison & Sons.

Two companies, Amercian Bank Note Company of the United States and Bundesdruckrei of Germany, have also
been awarded the contract.

A consortium consisting of Geisecke and Devrient, Charles Francois Oberthur of France and BA Banknote of Canada
along with Canadian Bank Note Company have been awarded the contract to manufacture 1.6 billion pieces of Rs
500 denomination.

It will cost Reserve Bank a little over Rs 340 crore, inclusive of insurance cost and freight (CIF). The cost of import will be
marginally cheaper than producing the notes domestically.

According to Gupta, the two new printing presses, being set up at Salboni in West Bengal and Mysore at a cost of Rs
1,650 crore, will produce 5,000 million pieces each per annum. The two security press units at Nashik and Dewas,
which are being modernised, print 4,000 million pieces.

In the first phase, the Mysore press is scheduled to produce 250 million pieces of Rs 100 notes and Salboni 700 million
pieces of Rs 10 notes.

On floating the global note printing tender, the central bank had received bids from three main consortia, the German
G&D consisting of CFO of France and BABN of Canada, the UK team of Thomas De La Rue, Desden Seck Printing
Works, Harrison & Sons and the third consortium comprising Bundesdruckerei of Germany, South African Reserve Bank
and Bank of Ukraine.

Independent bidders were Nichmen Corporation, Tumbabruk of Finland, Canadian Bank Note and American Bank Note.

The Reserve Bank had earlier rejected the bids of Nichimen Corporation and Tubabruk of Finland for violating tender
norms. Nichimen Corporation had purchased the tender documents in its name, but submitted a bid on behalf of
Spanish Printing works. The apex bank rejected the bid of Tumbabruk because it insisted that Reserve Bank of India
supply the bank note paper for printing the notes.

Copyright © 1997 Indian Express Newspapers (Bombay) Ltd.

Information source: http://www.indian-express.com
---

---
What African paper money collectors should know
Ali A. Mazrui, the director of the Institute of Global Cultural Studies at the State University of New York at Binghamton, predicts that West Africa--indeed, the whole continent--is on the verge of large-scale border upheaval. Mazrui writes, "In the 21st century France will be withdrawing from West Africa as she gets increasingly involved in the affairs [of Europe]. France's West African sphere of influence will be filled by Nigeria--a more natural hegemonic power. . . . It will be under those circumstances that Nigeria's own boundaries are likely to expand to incorporate the Republic of Niger (the Hausa link), the Republic of Benin (the Yoruba link) and conceivably Cameroon."


The future could be more tumultuous, and bloodier, than Mazrui dares to say. France will withdraw from former colonies like Benin, Togo, Niger, and the Ivory Coast, where it has been propping up local currencies. It will do so not only because its attention will be diverted to new challenges in Europe and Russia but also because younger French officials lack the older generation's emotional ties to the ex-colonies. However, even as Nigeria attempts to expand, it, too, is likely to split into several pieces. The State Department's Bureau of Intelligence and Research recently made the following points in an analysis of Nigeria: "Prospects for a transition to civilian rule and democratization are slim. . . . The repressive apparatus of the state security service . . . will be difficult for any future civilian government to control. . . . The country is becoming increasingly ungovernable. . . . Ethnic and regional splits are deepening, a situation made worse by an increase in the number of states from 19 to 30 and a doubling in the number of local governing authorities; religious cleavages are more serious; Muslim fundamentalism and evangelical Christian militancy are on the rise; and northern Muslim anxiety over southern [Christian] control of the economy is intense . . . the will to keep Nigeria together is now very weak."
Given that oil-rich Nigeria is a bellwether for the region--its population of roughly 90 million equals the populations of all the other West African states combined--it is apparent that Africa faces cataclysms that could make the Ethiopian and Somalian famines pale in comparison. This is especially so because Nigeria's population, including that of its largest city, Lagos, whose crime, pollution, and overcrowding make it the cliche par excellence of Third World urban dysfunction, is set to double during the next twenty-five years, while the country continues to deplete its natural resources.
Part of West Africa's quandary is that although its population belts are horizontal, with habitation densities increasing as one travels south away from the Sahara and toward the tropical abundance of the Atlantic littoral, the borders erected by European colonialists are vertical, and therefore at cross-purposes with demography and topography. Satellite photos depict the same reality I experienced in the bush taxi: the Lome-Abidjan coastal corridor--indeed, the entire stretch of coast from Abidjan eastward to Lagos--is one burgeoning megalopolis that by any rational economic and geographical standard should constitute a single sovereignty, rather than the five (the Ivory Coast, Ghana, Togo, Benin, and Nigeria) into which it is currently divided.
Copyright © 1994 by Robert Kaplan. All rights reserved. The Atlantic Monthly; February 1994; The Coming Anarchy; Volume 273, No. 2; pages 44-76

---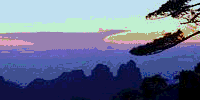 ---