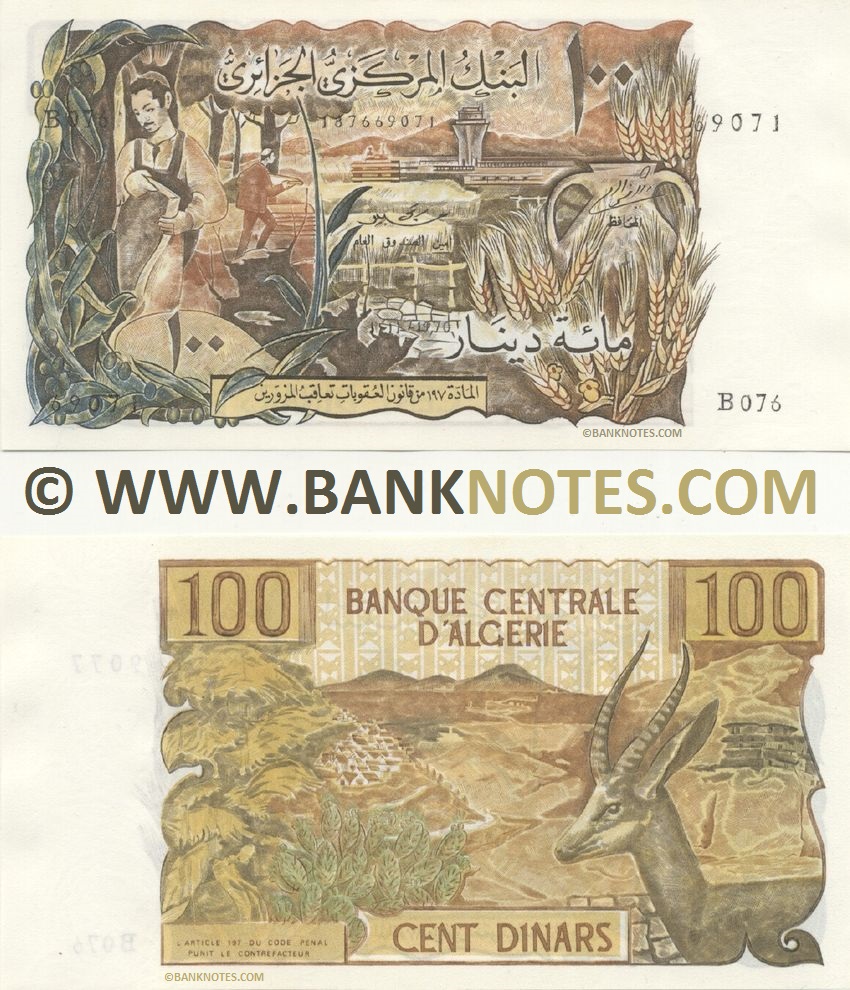 100 Dinars 1.11.1970 (Front: Plant foliage. Male worker. Male walking near trees. Airport Traffic Control Tower with mountains in the background. Amphora vase. Wheat ears. Back: Outback scenery with village and mountains as a backdrop. Cactus. Edmi gazelle (Gazella cuvieri). Ancient multi storey mud house. Watemark: Vertically repeated portrait of Abdelkader El Djezairi (Abd El-Kader Ben Muhieddine; Emir Abdelkader). Main color: Brown. Signatures: Right to left: Seghir Mostefai (Governor CBA, Dec. 1962 – Jun. 1981); Yahia Khelif (Secretary of the Public Treasury CBA). Artist: CBA. Date of printing: 1st of November 1970. Date of withdrawal: 31 December 2014. Demonetised: Yes. Total issue: N/a. Material: Cotton fiber paper. Issuer: Central Bank of Algeria (Banque Centrale d'Algérie). Printing method: Intaglio. Printer: Central Bank of Algeria) (Serial # B076/187669061) UNC

Dimensions: 166 x 90 mm

Catalogue Number: P-128

Grade/condition: Uncirculated (UNC) (new, unused, mint)

Texts: البنك المركزي الجزائري. Banque Centrale d'Algérie. Central Bank of Algeria. مائة دينار. Cent Dinars. One Hundred Dinars. L'Article 197 du Code Penal punit le contrefacteur.