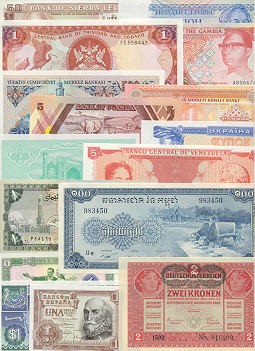 Banknote Country-Set of 100 different countries banknotes.

Banknote country-sets contain only ONE banknote from each country. Most banknotes are Uncirculated. Some banknotes might be AU or AU-UNC. Some small size, some medium and some bigger size banknotes. "100 different countries banknotes" means that there are 100 banknotes in the set each of which is representing it's own country.

ATTENTION: Ships in about 3 to 4 weeks. This is a pre-order product that needs to be assembled.

All sets are fixed sets and can not be customised.

Photo is only for illustrational purposes. Banknotes depicted in the image are not necessarily included in this set.

Grade/condition: AU, AU-UNC, UNC.