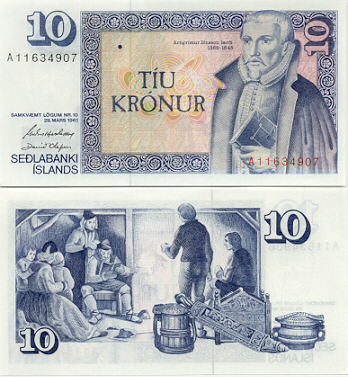 10 Kronur (1981) (Arngrimur Jonsson; Old Icelandic household scene. Signatures: Guðmundur Hjartarson; Davíð Ólafsson) (Serial Nos: A1176769x) UNC
Obverse: Scholar Arngrímur Jónsson the Learned (1568-1648). The border is based on a carved bed-board at the National Museum and the written denomination is in a typeface matching that in Arngrímur Jónsson's tract on Iceland, Crymogaea, 1609.
Reverse: Old Icelandic household scene based on Auguste Mayer's drawing in Gaimard's Voyage en Islande, plus pictures of a jug, bowl and artefacts connected with the head-gear of the national costume, modelled on articles at the National Museum.
First put into circulation in 1981, this note is no longer circulated by the Central Bank, although it is still valid legal tender. In 1984 a 10 krónur coin was issued to replace the note.
Dimensions: 130 x 70 mm
LARGER SAMPLE PHOTO:
CLICK HERE
Catalogue Number: P-48
Grade/condition:
Uncirculated (UNC)
(new, unused, mint)