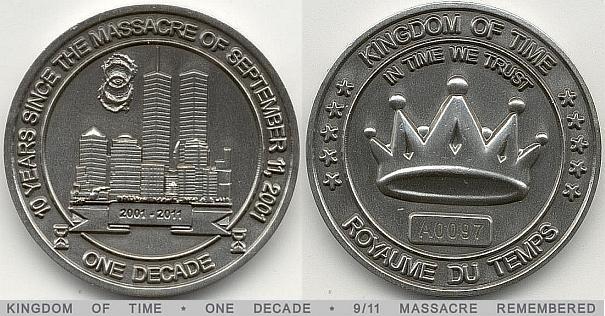 One Decade 2011 - Kingdom of Time - September 11, 2001 (2001-2011) Memorial coin with serial numbers and edge text (Front: World Trade Centre buildings in New York City (1972-2001). Hourglass Nebula. Stylized hourglasses. Back: Crown) Coin with a serial # A0003. UNC
You get the very first issued coin with a serial # A0003.
Diameter: 37 mm (1 29/64") – Edge thickness: 3 mm (3/32") – Weight: 30 grams.
FEATURES & TEXTS
A. Antique Silver Brass: This coin is made from brass metal with "antique silver" finish overlay. It looks better than in the scan.
B. Engraved Consecutive Serial Numbers: All coins are serial numbered on the reverse as follows: A0001 through A0100.
C. Edge Text: This coin has the following edge text: 9/11 MASSACRE REMEMBERED * KINGDOM OF TIME * ONE DECADE
D. Texts: KINGDOM OF TIME / ONE DECADE / ROYAUME DU TEMPS / IN TIME WE TRUST / 10 YEARS SINCE THE MASSACRE OF SEPTEMBER 11, 2011.
Notice: This coin is a "One Decade" currency denomination and is not a coin exclusively dedicated to the topic of the 9/11 Massacre, which is featured on one side of the coin only.
Spending time is like spending money. Spending money is like spending time. Spending your vacation, means spending both, money and time. Spend a Decade comfortably.
The following "Time Currency" from ever-present "Kingdom of Time" are monetarily non-negotiable time currency collectibles which can be converted mainly into/from time, goods, labour or services by a wide variety of ways, factors and mutual agreements. Other denominations such as "century", "millenium", "eternity" etc. are being designed and will be released shortly and in the nearest future. So far the first 100 consecutively numbered coins were issued with serial numbers A0001 through A0100. Unique pieces with unique serial numbers. Time is Money!
Pièce commémorative - Pametní mince - Erindringsmønt - Herdenkingsmunt - Juhlaraha - Gedenkmünze - Emlékérme - Medaglia commemorativa - Minnemynt - Moneta okolicznosciowa - Moeda comemorativa - Pamätné mince - Priložnostni kovanec - Moneda conmemorativa - Jubileumsmynt - Hatira sikke..
Catalogue Number: not at this time... try again in a decade...
Grade/condition: Uncirculated (UNC)
More info:
ONE DECADE