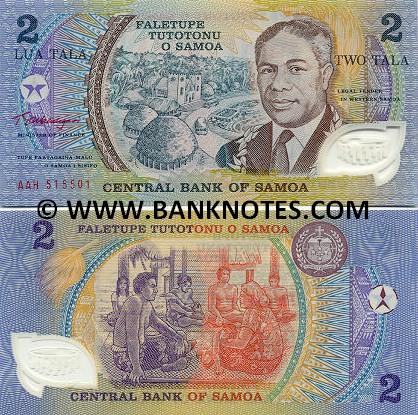 2 Tala (1990-) (Obverse: HRH Malietoa Tanumafili II (also known as Susuga) (4 January 1913 – 11 May 2007); Beach Road in Samoan village Apia and Mulivai Immaculate Conception of Mary Roman Catholic Cathedral built in 1885; Traditionally built fales; Kava Bowl (in transparent window). Reverse: Samoan family scene in Samoan Fale (house); Coat of Arms. Signature: Tuilaepa Lupesoliai Sailele Malielegaoi (Minister of Finance). Printer: Note Printing Australia. Date of Issue: 29 September 2004) (Serial Nos: AAL5984xx) UNC
Commemorative Issue: Golden Jubilee of Service of the Head of State, Susuga Malietoa Tanumafili II, 1990.
This banknote is made from a polymer plastic substrate.
Dimensions: 140 x 70 mm
LARGER SAMPLE PHOTO:
CLICK HERE
Catalogue Number: P-31e/f
Grade/condition:
Uncirculated (UNC)
(new, unused, mint)