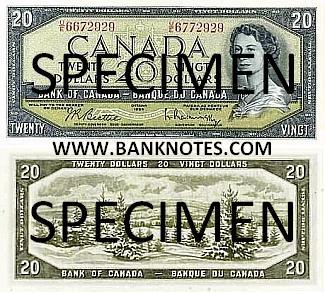 20 Dollars 1954 (1961-70) (Front: Portrait of Queen Elizabeth II (Elizabeth Alexandra Mary, born 21 April 1926); Arms. Back: Laurentian Mountains (Laurentides; Laurentian Hills, Laurentian Upland, Laurentian Highlands) in winter. Signature titles: Deputy Governor - Sous-Gouverneur; Governor - Gouverneur. Printer: Canadian Bank Note Company, Limited) (Serial # G/W5636912) aAU
Attention! This note is NOT a Specimen! The image is only an example.
Signatures: Beattie; Rasminsky.
Dimensions: 153 x 69 mm
Catalogue Number: P-80b
Grade/condition:
About About-Uncirculated (aAU)