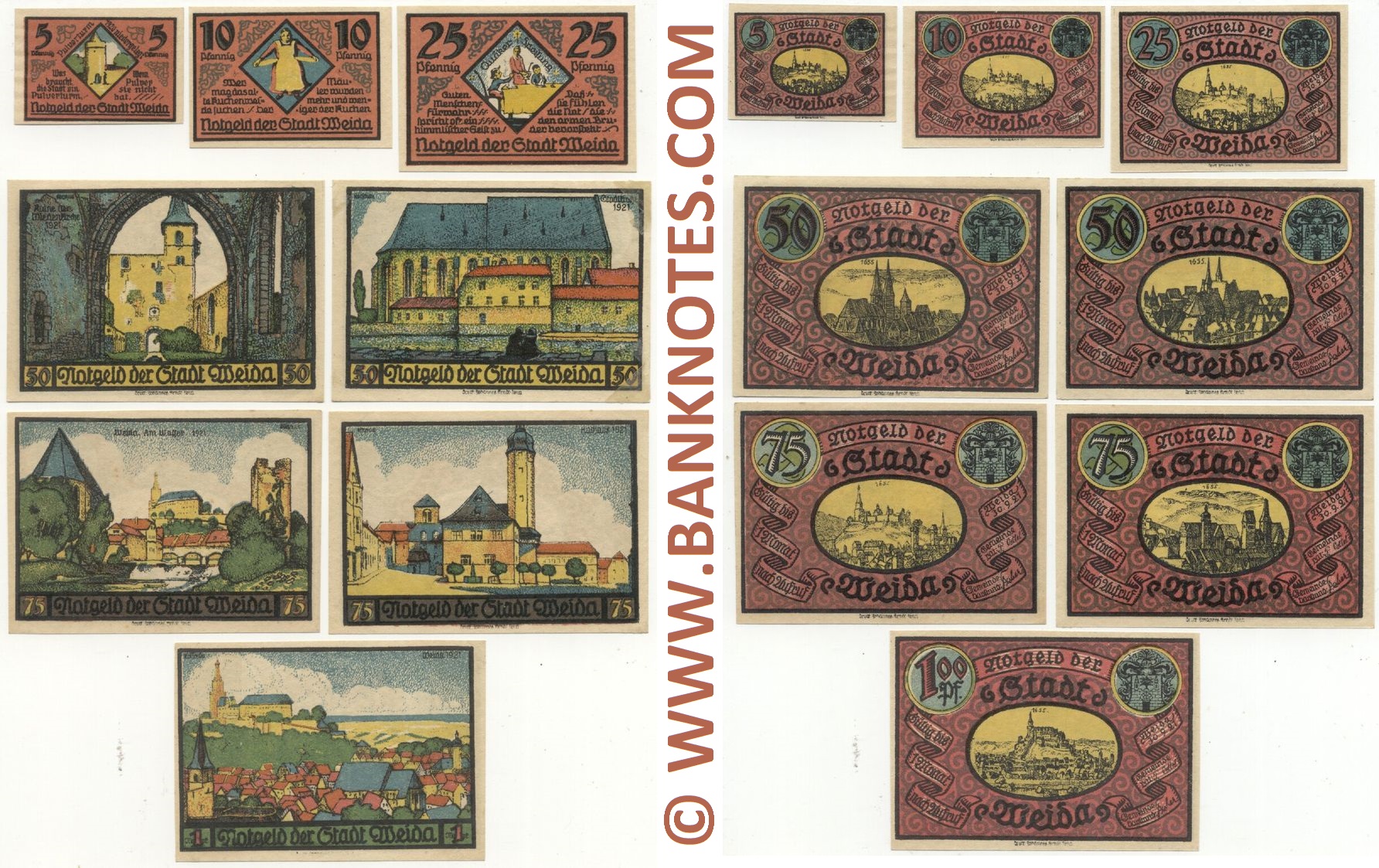 Town of Weida (Thüringen): Notgeld set of 8 notes: 5, 10, 25, 50, 50, 75, 75 and 100 Pfennig / 1 Mark, dated 30th of September 1921 (Catalogue Nº L1355b), (Town views in 1655 and in 1921) (Serial Nos: n/a) UNC
Printer (Druckerei): Druck Johannes Arndt, Jena
Approximate dimensions (design part): 45 x 30 mm (5 Pf. only)
Approximate dimensions (design part): 54 x 37 mm (10 Pf. only)
Approximate dimensions (design part): 65 x 45 mm (25 Pf. only)
Approximate dimensions (design part): 87 x 61 mm (50 and 75 Pf. only)
Signature titles: Gemeinderat; Gemeindevorstand
Designer (Entwerfer): Rötschau, Rötschall, Rötschalt (?)
Watermark: Yes
Notgeld der Stadt Weida Gültig bis 1 Monat nach Aufruf. Weida 30. 9. 21
5 Pfennig: Pulverturm 1920 niedergelegt. Was braucht die Stadt ein Pulverturm, wenn Pulver sie nicht hat.
10 Pfennig: Housewife with empty pockets or she is fastening her apron (smile); Wer mag das alle Kuchenweide suchen. Der Mäuler wurden mehr und weniger der Kuchen.
25 Pfennig: Quãker Speisung. Guten Menschen fürwahr spricht oft ein himmlischer Geist zu dass sie fühlen die Not / aíe den armen Bruder bevorsbeht.
50 Pfennig: Körsthall. Stadtkirche 1921.
50 Pfennig: Ruine der Wiedenkirche 1921.
75 Pfennig: Körsthall. Rathaus 1921.
75 Pfennig: Weida, Am Wasser 1921.
1 Mark: Weida, 1921
Category: Notgeld - Emergency Money - Local Government Currency
LARGER SAMPLE PHOTO:
CLICK HERE
Catalogue Number: Lindman 1355b; Grabowski 1391
Notgeld (German for "emergency money" or "necessity money") refers to money issued by an institution in a time of economic or political crisis. The issuing institution is usually one without official sanction from the central government. This occurs usually when sufficient state-produced money is not available from the central bank. Most notably, notgeld generally refers to money produced in Germany and Austria during World War I and the Interbellum. Issuing institutions could be a town's savings banks, municipality and private or state-owned firms.
Grade/condition:
Uncirculated (UNC) (new, unused, mint)