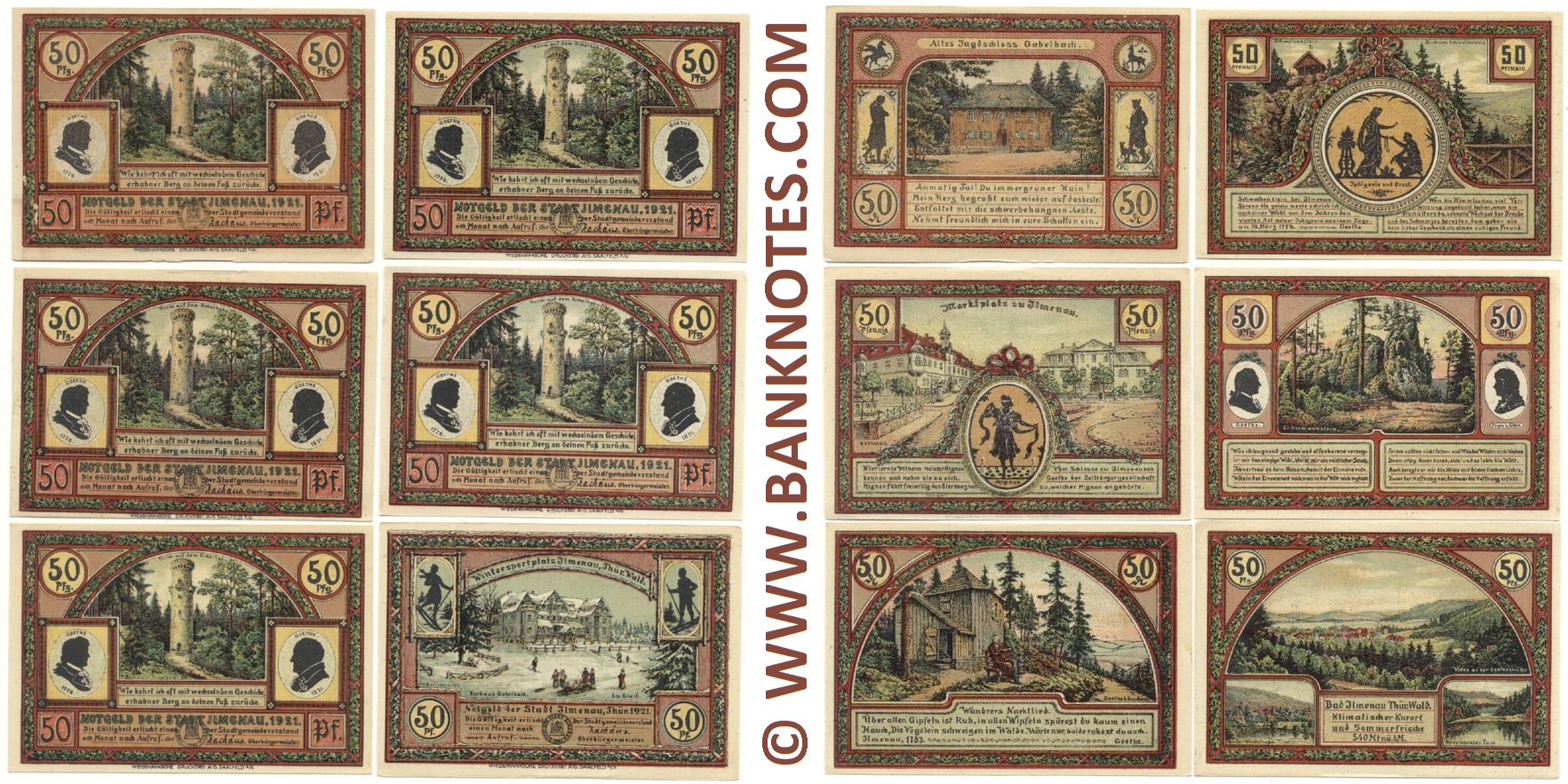 Town of Ilmenau (Thüringen), Goethe Series: Notgeld set of 6: 6 x 50 Pfennig, dated 1921 (Catalogue Nº Lindman 625b2), (Town history, views and scenery) (Serial Nos: n/a) UNC
Printer: Wiedemannsche Druckerei A.-G. Saalfeld A/S. Glanzdruck (glossy print technique). Printer name on the obverse only.
Approximate dimensions: 93 x 65 mm
Notgeld der Stadt Ilmenau, 1921. Die Gültigkeit erlischt einen Monat nach Aufruf. Der Stadtgemeindevorstand.
Signature: Zachäus (Oberbürgermeister)
Wintersportplatz Ilmenau, Thür. Wald. Kurhaus Gabelbach. Am Start.
Villen an der Goethestraße. An der Waldstraße. Knöpfelstaler Teich. Bad Ilmenau Thür. Wald. Klimatischer Kurort und Sommerfrische 540 Mtr. ü. d. M.
Turm auf dem Kickelhahn. Wie kehrt ich oft mit wechselndem Geschicke, erhabner Berg an deinen Fuß zurücke.
Altes Jagdschloss Gabelbach. Goethe. Karl August. Pegaus. Deer. Lines from Goethe's poem "Ilmenau":
Anmutig Tal! Du immergrüner Hain!
Mein Herz begrüßt euch wieder auf das beste;
Entfaltet mir die schwerbehangnen Aeste,
Nehmt freundlich mich in eure Schatten ein.
Goethehäuschen. Wandrers Nachtlied (Wanderer's Nightsong), Goethe, Ilmenau 1783:
Über allen Gipfeln
Ist Ruh,
In allen Wipfeln
Spürest du
Kaum einen Hauch;
Die Vögelein schweigen im Walde.
Warte nur, balde
Ruhest du auch.
Goethe's Cave, Hermannstein rock. Goethe and Frau Charlotte von Stein. Lines of Johann Wolfgang von Goethe dedicated to the cave of Hermannstein rock:
Was ich leugnend gestehe und offenbarend verberge
ist mir das einzige Wohl, bleibt mir ein reichlicher Schatz.
Ich vertrau' es dem Felsen, damit der Einsame rate,
Was in der Einsamkeit mich, was in der Welt mich beglückt.
Felsen sollten nicht Felsen und Wüsten Wüsten nicht bleiben
Drum stieg Amor herab, sieh! und es lebte die Welt.
Auch belegte er mir die Kohle mit himmlischem Lichte,
Zwar der Hoffnung nur, doch war die Hoffnung erfüllt.
Marktplatz zu Ilmenau. Rathaus. Schloss. Hennebrunnen fountain. Goethe City Museum. Mignon from Goethe's novel "Wilhelm Meister's Apprenticeship" and lines from the novel:.
Hier lernte Wilhelm Meister Mignon
kennen und nahm sie zu sich.
Mignon führt freiwillig den Eiertanz vor.
Vom Schlosse zu Ilmenau sah
Goethe der Seiltänzergesellschaft
zu, welcher Mignon angehörte.
Schwalbenstein rock and the view to the Ilm valley. Iphigenie and Orest from Goethe's "Iphigenia in Tauris".
Schwalbenstein bei Ilmenau.
Sereno die quieta mente schrieb ich,
Nach einer Wahl von drei Jahren den
vierten Akt meiner Iphigenia an einem Tage.
am 19. März 1779. Goethe.
Wem die Himmlischen viel Ver
wirrung zugedacht haben, wem sie
erschütternde, schnelle Wechsel der Freude
und des Schmerzes bereiten, dem geben sie
kein höher Geschenk als einen ruhigen Freund.
Artist: Max Bechstein
Category: Notgeld - Emergency Money - Local Government Currency
LARGER SAMPLE PHOTO:
CLICK HERE
Catalogue Number: Lindman 625b2; Grabowski 643
Notgeld (German for "emergency money" or "necessity money") refers to money issued by an institution in a time of economic or political crisis. The issuing institution is usually one without official sanction from the central government. This occurs usually when sufficient state-produced money is not available from the central bank. Most notably, notgeld generally refers to money produced in Germany and Austria during World War I and the Interbellum. Issuing institutions could be a town's savings banks, municipality and private or state-owned firms.
Grade/condition:
Uncirculated (UNC) (new, unused, mint)