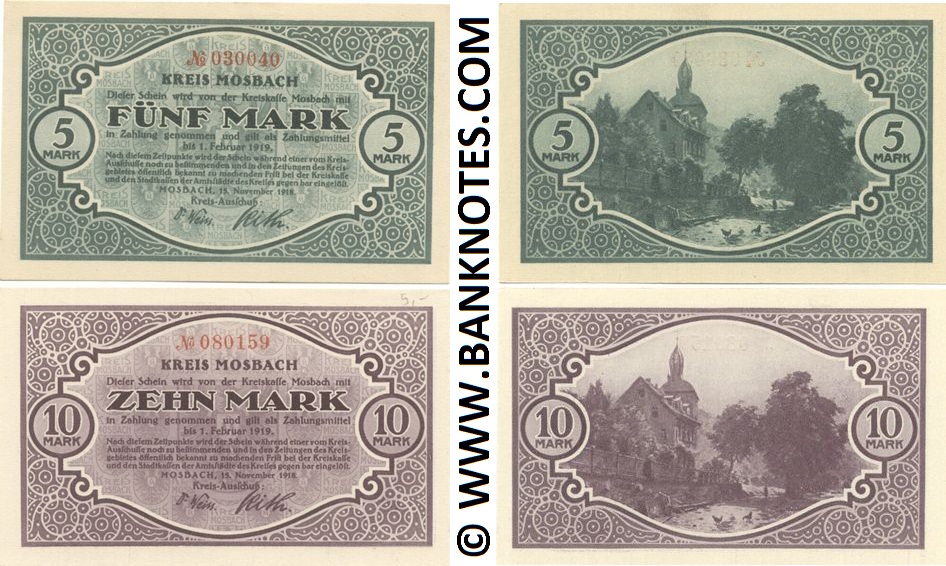 District of Mosbach (Baden): Grossgeld set of 2: 5 and 10 Mark, dated 15 November 1918 (Cat # G363) (House by the creek) (Serial Nos: 5M:030040; 10M:080159) UNC
Printer: Unknown (unmarked)
Approximate dimensions: 118 x 75 mm
Kreis Mosbach - Dieser Schein wird von der Kreiskasse Mosbach mit Fünf / Zehn Mark in Zahlung genommen und gilf als Zahlungsmittel bis 1. Februar 1919.
District Mosbach - This note is accepted in payment by the District Office Mosbach with five / ten marks and is valid until February 1st, 1919.
Nach diesem Zeitpunkte wird der Schein während einer vom Kreis-Ausschüsse noch zu bestimmenden und in den Zeitungen des Kreis-gebietes öffentlich bekannt zu machenden Frist bei der Kreiskasse und den Stadtkassen der Amtsstädte des Kreises gegen bar eingelöst.
After this point in time, the certificate will be redeemed for cash at the district treasury and the city treasury of the district's official cities during a period to be determined by the district committee and published in the newspapers of the district area.
MOSBACH, 15. November 1918. Kreis-Ausschuss (two signatures)
Category: Notgeld - Grossgeld - Emergency Money - Local Government Currency
LARGER SAMPLE PHOTO:
CLICK HERE
Catalogue Number: Grabowski 363
Notgeld (German for "emergency money" or "necessity money") refers to money issued by an institution in a time of economic or political crisis. The issuing institution is usually one without official sanction from the central government. This occurs usually when sufficient state-produced money is not available from the central bank. Most notably, notgeld generally refers to money produced in Germany and Austria during World War I and the Interbellum. Issuing institutions could be a town's savings banks, municipality and private or state-owned firms.
Grade/condition:
Uncirculated (UNC) (new, unused, mint)