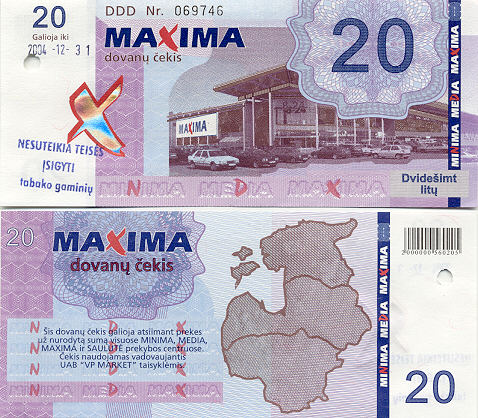 20 Litu 2004 (Maxima supermarket; Baltic countries map) (Serial Nos: DDD Nr. 069xxx) UNC
These notes are Lithuanian "Maxima" supermarket chain's gift certificates that have expired after 21 Dec. 2004 and have one punch-hole. These paper money are widely accepted in "Minima", "Media", "Maxima" and "Saulute" supermarkets all across Lithuania, Latvia and Estonia to purchase all kinds of goods except tobacco goods. These are so-called "Gift Cheques". These gift checks are used all across Baltic States with new expiration dates on them. As soon as they expire they are destroyed.
Security features: watermark, unique serial numbers, holografic "X", bar code, microtext etc.
Dimensions: 160 x 70 mm
LARGER (SAMPLE) PHOTO:
CLICK HERE
Catalogue Number: none
Grade/condition:
Uncirculated (UNC) (new, unused, mint)