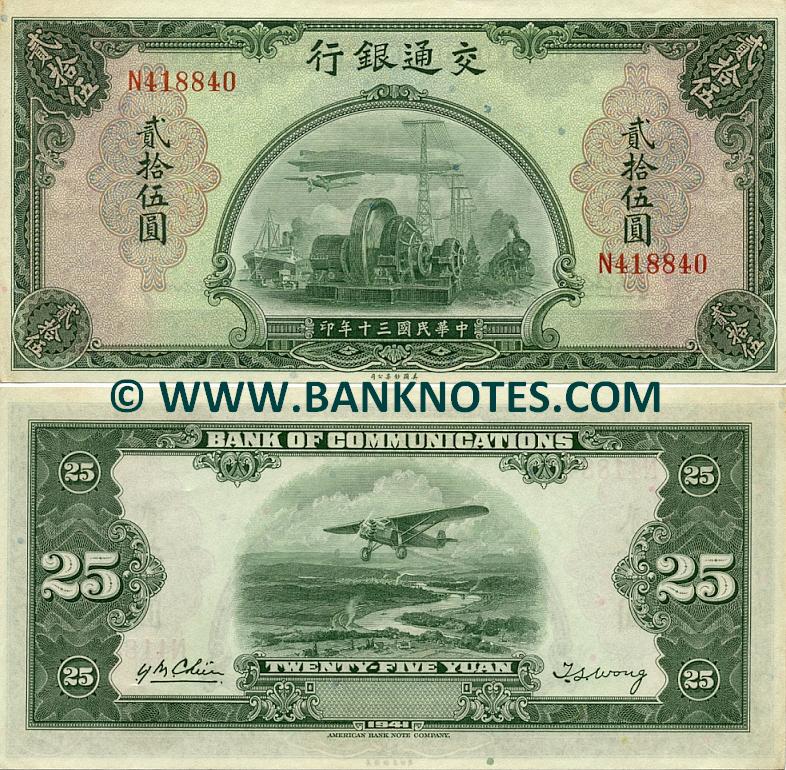 25 Yuan 1941 (Front: Transportation: Dirigible, airplane, ship, steam locomotive train, high voltage electric power transmission lines, electric power generator. Back: Single engine airplane in flight over a river and a steam train. Issuer: Bank of Communications. Printer: American Bank Note Company (ABNC). Predominant colour: Green. Signatures: Y.M. Chien; J.S. Wong) (Serial # N418841) AU–
REMARK: No folds, bends or creases affect design area (almost). Only the lower left corner area has some very light wavy creasing that does not break the paper. There is an oblique fold right at the corner of the design at the upper right corner of the banknote that lightly breaks the paper.
NOTE: Serial number "prefix" N41 and also the last two digits "41" match the year of issue "1941" and the two middle digits of the serial number "88" make it a "Lucky Note".
Dimensions: 165 x 82 mm
LARGER (SAMPLE) PHOTO:
CLICK HERE
LARGE ACTUAL PHOTO (FRONT):
CLICK HERE
LARGE ACTUAL PHOTO (BACK):
CLICK HERE
REMARK: Photos are marked against copying and do not bear the inscription "Banknotes.com" on the actual notes.
Catalogue Number: P-160
Grade/condition:
About About Uncirculated (AU–)