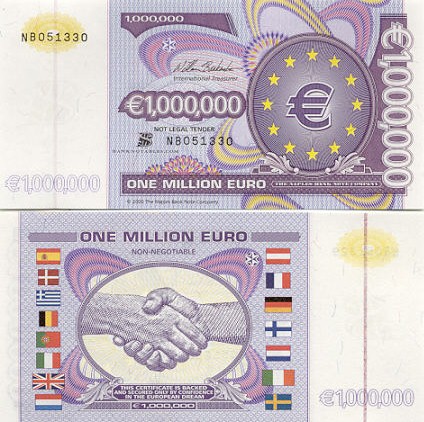 European Union 1 Million Euro 2000 (Euro symbol inside 12 stars; handshake; 15 flags of pre-2004 EU members) Not real currency, but looks and feels so real. (Serial # NB051xxx) UNC
Limited issue of 150000. All of it is already sold out. Only a few pieces remain.
LARGER SAMPLE PHOTO:
CLICK HERE
These privately designed and printed non-legal-tender non-negotiable notes are not real money, but are excellent material for promotions, gifts, entertainment or simply having fun.
These limited edition commemorative notes are printed on a high quality security paper and incorporate a wide variety of security features in order to ensure verification and authenticity of your collectible note.
Each note has a unique serial number.
Special security features incorporated in these notes:
- Visible non-fluorescent banknote fibers;
- Intaglio (engraved) printing process of the type used to produce U.S. and other currency;
- Micro-printed, metalised security thread on security background;
- Invisible fluorescent inks used in printing;
- Invisible fluorescent blue fiber that can be seen under ultraviolet light;
- Micro-printed security thread with fluorescent dye;
- These notes are chemically reactive to acids and caustic agents (produce coloured stains when tampered with);
- Pop-up VOID tint on the face of the note;
- Invisible text message on the back of the note that can only be viewed under ultraviolet light;
- Front to back register of images;
- Microline printing;
- Fine line guilloche tints that are difficult to copy or photograph with accuracy.
All plates and films used were destroyed after production.
Fun Notes - Fantasy Banknotes - Play Money - Non-Negotiable Banknotes - Novelty Items - Private Issue.
IMPORTANT NOTICE: trying to cash this note at a bank is illegal. These notes are not a financial instrument and can not be cashed or spent.
Catalogue Number: none
Grade/condition:
Uncirculated (UNC)
(new, unused, mint)