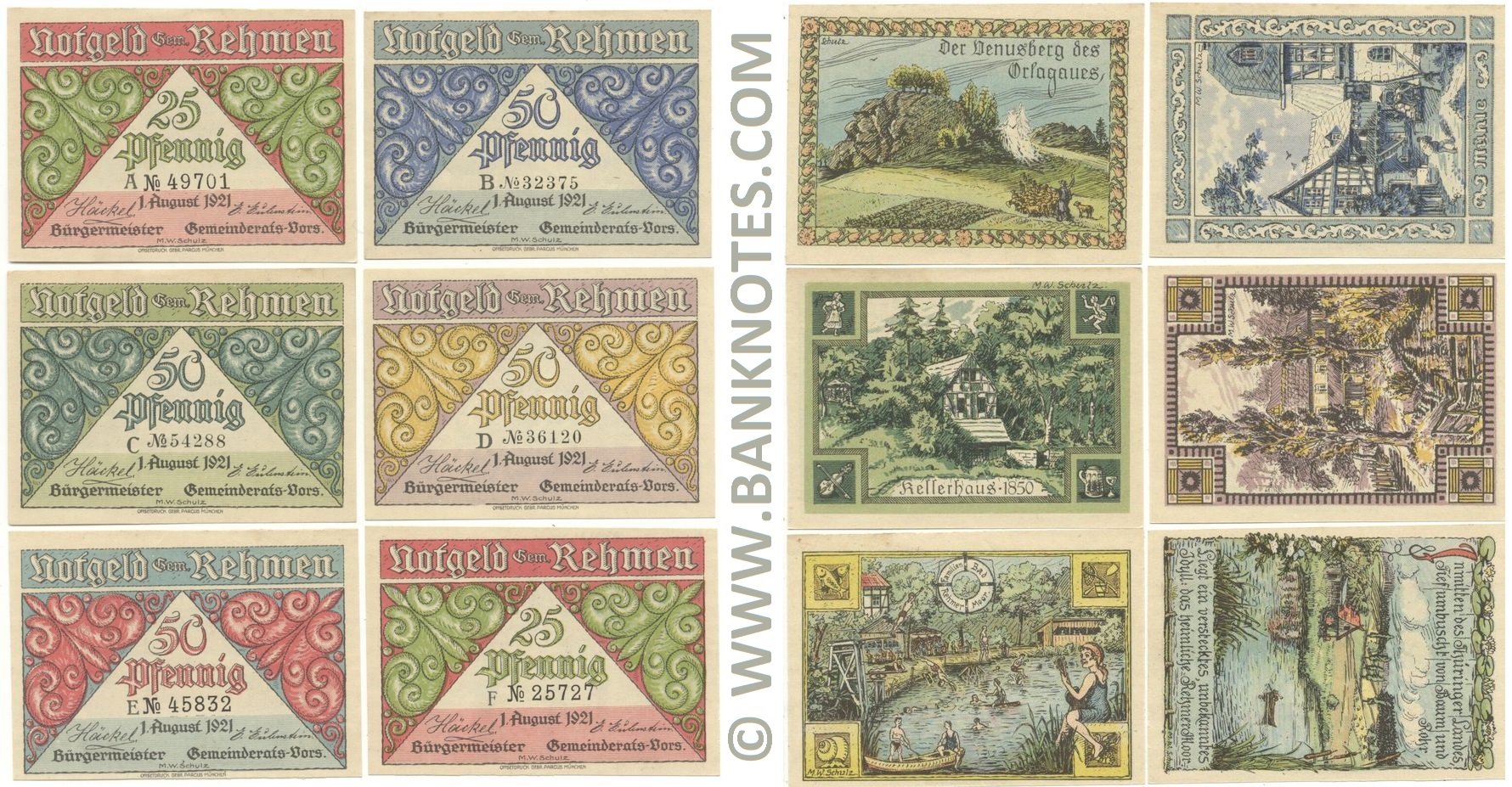 Town of Rehmen (Oppurg, Thüringen): Notgeld set of 6: 2 x 25 Pfennig and 4 x 50 Pfennig, dated 1st of August 1921 (Catalogue Nº L1078), (Town views and activities) (Serial Nos: A-14931, B-02932, C-02552, D-05077, E-04079, F-06902) UNC
Printer: Gebr. Parcus, München (Printed in the offset technique)
Approximate dimensions: 91 x 65 mm
Notgeld Gemeinde Rehmen. Signatures: Häckel (Bürgermeister); E. Eisenstein (Gemeinderats-Vorsitzender)
Artist: M.W. Schultz
Watermark: Yes
Der Venusberg des Orlagaues; shepherd with herd. Mühle (The Mill). Kellerhaus, 1850. Familien Bad, Rehmer Moor. In mitten des Thüringer Landes, Tief umbuscht von Baum und Rohr, liegt ein verstecktes, unbekanntes Idyll: das heimliche Rehmer Moor. In the middle of the Thuringian countryside, surrounded by trees and reeds, lies a hidden, unknown idyll: the secret Rehmer Moor.
Category: Notgeld - Emergency Money - Local Government Currency
LARGER SAMPLE PHOTO:
CLICK HERE
Catalogue Number: Lindman 1078
Notgeld (German for "emergency money" or "necessity money") refers to money issued by an institution in a time of economic or political crisis. The issuing institution is usually one without official sanction from the central government. This occurs usually when sufficient state-produced money is not available from the central bank. Most notably, notgeld generally refers to money produced in Germany and Austria during World War I and the Interbellum. Issuing institutions could be a town's savings banks, municipality and private or state-owned firms.
Grade/condition:
Uncirculated (UNC) (new, unused, mint)