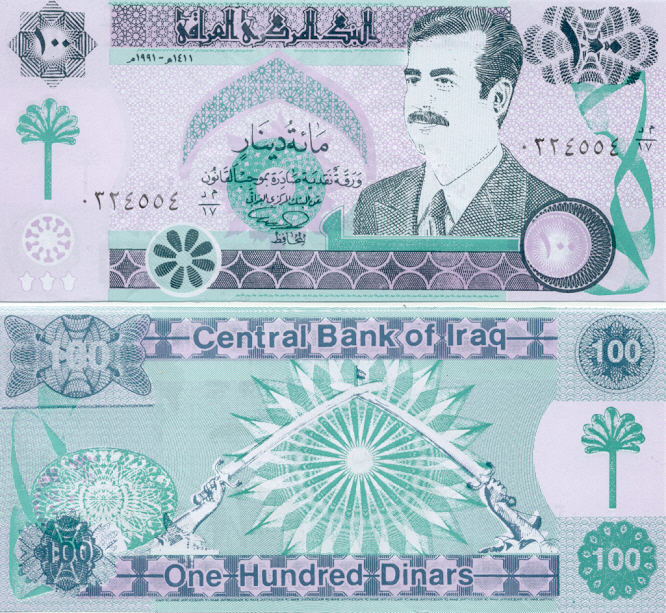 100 Dinars 1991 (Saddam Hussein; Victory Arch (Hands of Victory) Monument) (Serial Nos: 03245xx daal-miim/17) UNC
To celebrate his "victory" over Iran, Saddam decided to build a Triumphal Arch. The triumphal arch is shaped as two pairs of crossed swords, made from the guns of dead Iraqi soldiers that were melted and recast as the 24-ton blades of the swords. Captured Iranian helmets are in a net held between the swords. And surrounding the base of the arms are another 5000 Iranian helmets taken from the battle field. The fists that hold the swords aloft are replicas of Saddam Hussein's own hands.
The original print of this banknote is the very scarce 100 Iraqi Dinars banknote issued in 1991 with Saddam Hussein's portrait on it. These notes were taken out of the circulation and replaced by the next 1992 issue and most of these were destroyed after they've been used for a very short period of time making these one of the hardest Iraqi banknotes to be found. These banknotes have all different and slightly raised serial numbers and are of a quite low quality print, possibly a reprint or some kind of emergency issue. There is no security strip, watermark or other majour security features. A possible "Iranian Government's counterfeit" or a later low quality reprint by Saddam Hussein.
Iraq's currency was printed both locally and in China, using poor grade wood pulp paper (rather than cotton or linen) and inferior quality lithography (some notes were reputedly printed on presses designed for printing newspapers). Counterfeited banknotes often appeared to be of a better quality than real notes.
Serial numbers on all these notes are all different and sequential.
Dimensions: 176 x 80 mm
LARGER (SAMPLE) PHOTO:
CLICK HERE
Catalogue Number: P-76 (Iraqi Gov. Reprint or Iranian Gov. Forgery)
Grade/condition:
Uncirculated (UNC) (new, unused, mint)