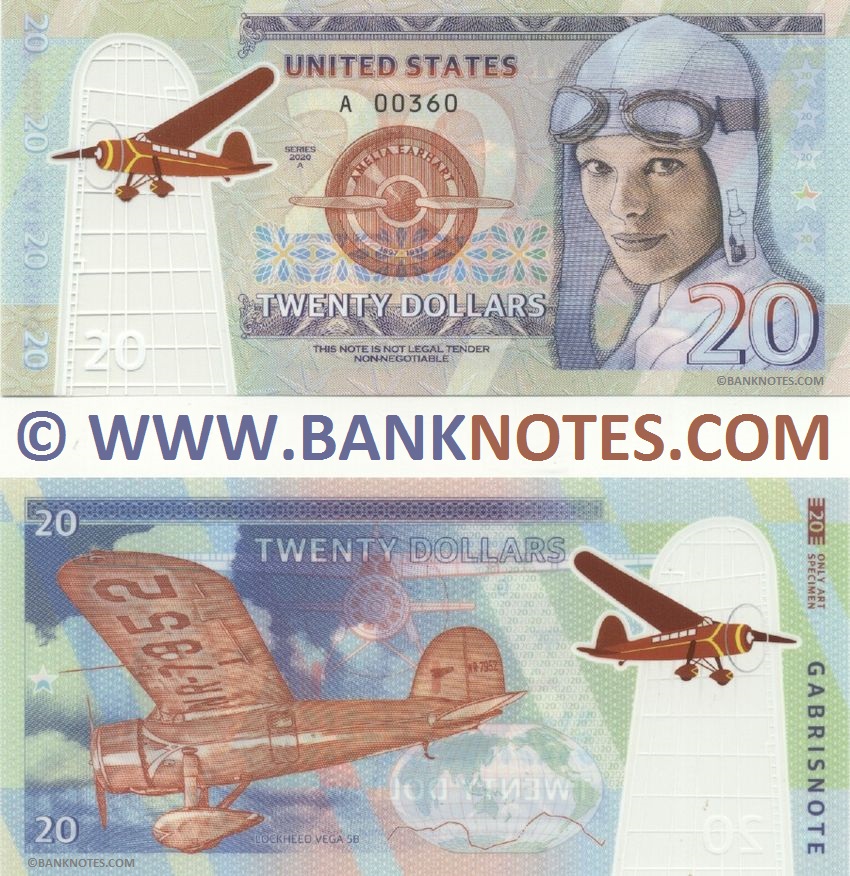 20 Dollars 2020 (Front: Amelia Earhart (1897–1937), first female aviator to fly solo across the Atlantic Ocean in 1932. Airplane in flight. Back: Lockheed Vega 5B. Earth globe. Security features: Running serial numbers. Predominant colours: Blue and red-brown. Artist: Matej Gabriš. Issuer: Private, by the Artist. Date of printing: September 2020. Printing method and material: Printed with 10 color digital offset on transparent PVC foil. Printer: Undisclosed by the issuer. Amount produced: 600 notes of each series (Series 'A, G, M, S, U')) Commemorative release, non-negotiable, not real money, private numismatic collector product (Serial # U 00361) UNC
Unique Serial Number: Each note has its own unique serial number.
This Twenty Dollar Bill is an excellent item for education, promotions, gifts or simply having fun.
Private release. Not real money. Non-negotiable.
Fun Notes - Fantasy Banknotes - Play Money - Non-Negotiable Banknotes - Novelty Items.
Dimensions: 151 x 72 mm
VIEW LARGER SAMPLE PHOTO
Catalogue Number: N/a
Grade/condition:
Uncirculated (UNC) (new, unused, mint)