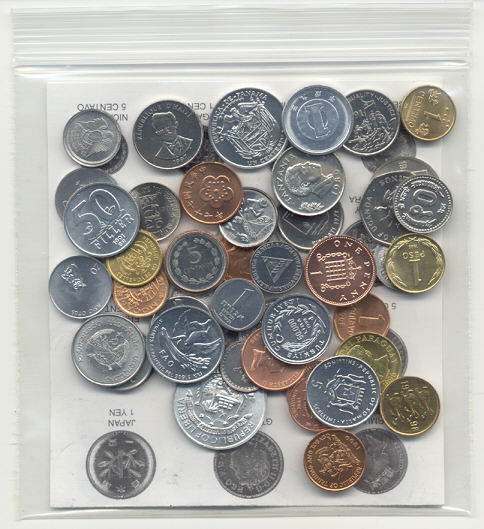 50 different coins set (50 countries) UNC
This coin set is made with only one uncirculated coin from each country.
This set is available for shipping.
ATTENTION: when you order coins and banknotes together in one single order your coins may be sent separately from your banknotes. An additional shipping charge applies to all coins that is why your shipping charges appear higher than if you order banknotes. If you select FEDEX/UPS/DHL/EMS your shipping charges for coins may be higher than quoted by the store! You will be contacted in such case.
Full listing:
China 1 Jiao
India 20 Paise
Dominican Republic 25 Centavos
Ghana 1 Cedi
Guernsey Penny
Haiti 5 Centimes
Indonesia 25 Rupiah
Bermuda 1 Cent
Bahrain 10 Fils
Brazil 50 Centavo
Bulgaria 3 Stotinki
Chile 1 Peso
El Salvador 5 Centavos
Czech Republic 10 Haleru
Egypt 1 Millieme
Ethiopia 1 Cent
Georgia 1 Tetri
Guinea 1 Franc
Iceland 1 Krona
Argentina 1 Centavo
Philippines 5 Centimos
Netherlands Antilles 1 Cent
Bolivia 2 Centavos
Kiribati 5 Cents
Morocco 5 Santimat
Nepal 10 Paisa
Bahamas 1 Cent
Jamaica 1 Cent
Congo 50 Centimes
Cook Islands 1 Cent
East Caribbean States 2 Cents
Ecuador 1 Sucre
Nagorno Karabakh 1 Dram
Eritrea 10 Cent
Hungary 50 Filler
Croatia 2 Lipe
Laos 10 Att
Lithuania 2 Centai
Somaliland 20 Shillings
Japan 1 Yen
Trinidad & Tobago 1 Cent
Turkey 50000 Lira
Poland 2 Zlotych
Paraguay 5 Guarani
Peru 1 Centimos
Armenia 20 Luma
Slovakia 10 Haleru
Slovenia 20 Stotinov
Zimbabwe 1 Cent
Zambia 1 Ngwee
You can also see the entire country illustrated list by
clicking here
.
Catalogue Number: n/a
Grade/condition:
UNC (Uncirculated, unused, new, mint)